Los Angeles Workplace Injuries Attorney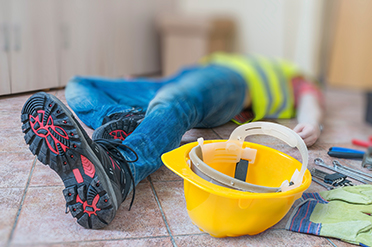 When you go to work every day, you go intending to provide for your family. However, more than 3 million families each year are suffering as a result of a work-related incident.
In some of these cases, workers' compensation provides the medical care and restitution for lost wages as compensation for any worker that suffered a workplace injury. However, workers' compensation is not an excuse for the negligence of employers. Personal injury lawsuits can provide the full and necessary compensation you require for injuries you suffered as a result of negligent and unsafe business practices.
Employers have responsibilities towards their employees. Responsibilities to create and enforce policies that protect their safety. Equipment and machinery must be well maintained and safety gear such as goggles, masks, harnesses and helmets should, as required, be used in hazardous situations. Employees should carefully consider the occupational risks and should be properly trained in the safety procedures necessary to minimize them.
However, these regulations are, unfortunately, not always respected. Many industrial accidents cause immediate trauma and severe injuries. There are also other conditions that may develop in time. Workers may suffer from repetitive strain injuries, including back injuries and exposure to toxic materials that can lead to heart diseases, lung diseases as well as other debilitating conditions.
The manufacturing industry, for instance, has the highest rate of occupational illness of all industries in the private sector. Many of these illnesses result from exposure to harmful materials, as in the case of 'mesothelioma', caused by exposure to asbestos.
If you have suffered any kind of injury in the workplace, seeking legal advice might be a prudent course of action. We at the Law Offices of Michael Rabban can help protect your legal rights and promote your interests in case you are injured while doing your job.
Should there be any complications with your workers' compensation claim, one of our expert attorneys can advise you of your rights and provide you with the information you sorely need in order to make the best decision in pursuing compensation. If you are also entitled to other compensations, such as the Federal Employers' Liability Act (FELA), one of our lawyers can guide you through the legal work needed, since these kinds of claims are brought before a court.
The benefits one can recover after a workplace injury case through workers' compensation varies. However, it usually only covers a percentage of the cost of any medical treatment and wages lost during a period of injury or incapacitation.
Therefore, the help of an experienced attorney is important – damages awarded in a successful workplace injury lawsuit can compensate the victim for the full medical treatment and lost wages, as well as additional compensation for any pain and suffering incurred and the cost of any future medical treatment, therapy and overall reduction in the quality of life of the victim.
Located in the San Fernando Valley since 2006. We provide those who have been injured with personalized legal care and support.
Schedule a free case evaluation by calling this number: (818) 272-8882