Los Angeles Truck Accident Attorney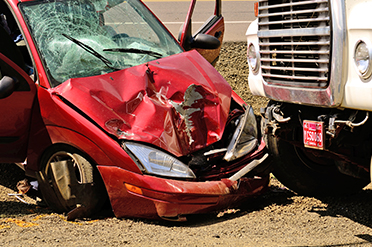 Considering the large size and weight of tractor trailers and other similar vehicles, anything they collide with is unlikely to escape completely unharmed. With the momentum of a moving, eighteen wheel truck, such accidents are often catastrophic, resulting in serious personal injury or death. Unlike cars, motorcycles or any other motor vehicle, any accident involving a truck is likely to be much more deadly. The heavier the mass, the harder it is to stop and the more devastating the impact can be.
Considering the involvement of truck companies, truck accident cases are typically more complex than automobile accident cases, therefore, it is recommended that if you or a loved one suffers due to a truck accident, you immediately consult an experienced truck accident attorney who can provide both the knowledge and resources needed to ensure you or your loved ones receive the justice and compensation that your rights entitle you to.
Your rights, however, can often be jeopardized. From the moment you're in a truck accident, the truck company and their insurance company begin working on the case to minimize the company's exposure. Without an attorney by your side, you might be asked to repeat your version of events over and over again in order to create inconsistencies in your story. They might even offer to fix any damage to your property, destroying evidence in the process.
Every truck on the road is potentially deadly if the driver is not paying attention. Such accidents can cause very severe injuries such as amputations, broken bones, broken sternums, knee injuries and internal body damage.
Considering the always rising costs of medical bills, the affected party's inability to work as well as the cost required to repair the damaged vehicle, the financial damage can appear unmanageable. The work lives of the victims of suck accidents could suffer temporary or even permanent setbacks. It is entirely possible that they may never return to work at all.
With truck accidents being such a financial sinkhole for the victim, compensation from a truck accident lawsuit may help in regaining financial control in one's life and attending to the medical bills as well as any other financial liabilities incurred.
In order to successfully pursue a truck accident lawsuit, an attorney requires an in-depth understanding of state and federal trucking laws. The attorneys of the Law Offices of Michael Rabban have the extensive knowledge of such laws and the resources needed to expertly investigate your claim and help you defend your rights.
Fortunately, with the help of driving logs as well as other records, truck drivers are usually held to a higher standard than drivers of conventional passenger vehicles. Trucking companies have to, by law, follow strict procedures for hiring practices, truck maintenance and record keeping. With an experienced attorney at your back collecting and interpreting the evidence, your case will be proven and your physical and emotional damages will be compensated.
Located in the San Fernando Valley since 2006. We provide those who have been injured with personalized legal care and support.
Schedule a free case evaluation by calling this number: (818) 272-8882